Un vrai tour de force
Huffington Post, Montréal
★★★★★
Dreaming sights and sensual movements that everyone in all ages should - and must go see
Teatre1
★★★★★
Ange Potier video animations enchant us, bringing audience in and out of Bosch' paintings.
Berlingske (Denmark)​
Bosch Dreams is a modern show for the whole family.
Everybody gets a both educational and aesthetical experience.
DansTidningen (Denmark)
★★★★
The Danish-Canadian circus show mixes the psychedelic influence of the works of Bosch to an intoxicating spectacle.
De Volkskrant (Netherlands)
A fantastic journey through surreal imagery that delves into Bosch's fabulous and saturated universe.
Bosch Dreams pays homage to the painter Hieronymus Bosch and the surrealist movement he inspired. Pictures come to life right in front of you as the amazing acrobatic artists unleash their playfulness across a fascinating 3-dimensional canvas of projected videos created by the French-Argentine video artist, Ange Potier. His magic-realist video projections encompass everything that characterizes both Bosch and the surrealist movement.
The Dutch painter Hieronymus Bosch is renowned for his wondrous paintings with peculiar people and imaginative animals. The painter's death 500 years ago is marked by celebrations throughout 2016 worldwide and especially in his hometown 's-Hertogenbosch, the Netherlands. The Jheronimus Bosch 500 foundation and Festival Circolo in the Netherlands initiated circus productions inspired by the painter.
Les 7 Doigts, in collaboration with Republique, were asked to create an anniversary show that world-premiered at Republique before going on a tour of 24 shows at the leading theatres in the Netherlands and Belgium.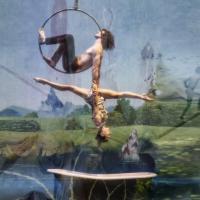 Translation from the Danish newspaper Information
The Canadian director Samuel Tétrealt and the Canadian video artist Ange Potier have, in collaboration with Martin Tulinius and the dramatist Simon Boberg, created this impressive, wildly visual show of highest international standards in celebration of the artist.
In partnership with Republique Theatre, Bosch Dreams will enter a new creation phase this fall, and will then begin touring in November. The show was one of the projects presented by Samuel Tétreault and Tina Diab at Pitch New Works during the annual ISPA congress.
Production
Les 7 Doigts
REPUBLIQUE
Fondation Jheronimus Bosch 500
Festival Circolo
Original Idea & Concept Samuel Tétreault
Direction and Staging Samuel Tétreault & Martin Tulinius
Video Concept and animation from original Jheronimus Bosch paintings Ange Potier
Costumes, Masks, Set Design Ange Potier
Coproducers



With the support of