The 7 Fingers created 2 original, groundbreaking shows for Virgin Voyages, the brand-new cruise line of the Virgin Group Ltd.
Responding to the Virgin Group's desire to redefine the cruising industry, to bring cutting edge quality entertainment that is bold, authentic, and representative of our times, 7 Fingers directors Shana Carroll and Gypsy Snider created Duel Reality and Ships in the Night, respectively.
Duel Reality is featured onboard the "Scarlet Lady" in the caribbean Sea
---
"Two households, both alike in dignity/ In fair Verona, where we lay our scene/ From ancient grudge break to new mutiny/ Where civil blood makes civil hands unclean." Romeo and Juliet

Circus on a whole new theatrical level. We boil this epic love story down to the core of its conflict and drop the stage into a sporting arena. The audience is seated face to face on either side of the action. They witness to two groups in opposition by default, by desire to rise above the other. Through the provocation and conflict, we catch a glimpse of our star crossed lovers. They are fierce players but still do not seem to care who wins or loses if playing the game can bring them closer together. Competition can be playful at times, it can also be dangerously serious.
Calendar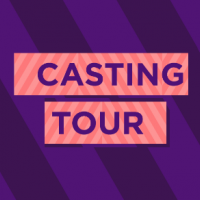 Audition for the ride of your life.
New York, London, Berlin, Sydney, Melbourne, Orlando, Chicago, Las Vegas.
Artistic Direction Shana Carroll
Assistant artistic director William Underwood
Production Director Chloé Lacroix
Production Assistant Sarah Lavergne
Technical Director Mathieu Ferdais
Stage Manager Mark Eden Towle
Set and costume design Anne-Seguin Poirier
Costume Design Pascale Bassani
Original music and lyrics Colin Gagné
Additional Musics Dance of the Nights remix by Prokofiev ; You & Me (Flume Remix) by Disclosure, Feat. Eliza Doolittle ; No, Diggity by Scott Bradlee & Postmorten Jukebox, Feat. Ariana Savalas ; Daydreaming by Radiohead ; Careless Whisper, Scott Bradlee & Postmorten Jukebox, Feat. Dave Koz ; Chu daïko dreams, by Taiko
Sound engineer Jonathan Bicari
Lighting Design Erwann Bernard
Light programming Bruno Archambault
Design of hairstyles and make-up Véronique Saint-Germain

Current Cast - Scarlet Lady : Julian Moreno, Sebastian Plester, Michael Patterson, Devin Henderson, Aerial Emery, Joëlle Ziojen, Kalani June, Oskar Per Norin, Anton Persson, Miguel Ronda and Marina Mendoza - Valiant Lady : Andrew Price, Einar Kling-Odencrants, Michael Carter, Méliejade Tremblay-Bouchard, Nate Amour, Léah Wolff, Frida Velasco, Santiago Esviza, Arata Urawa, Ann-Katherin Kuepper and Lucas Ezequiel Romero