The immersive show RIOPELLE Grandeur Nature will crown the festivities of Jean Paul Riopelle's centenary celebrations. This exceptional production will offer a journey into the heart of Riopelle's work and the nature that has always inspired him.
Using 360° video projection technologies, infrared motion capture, and a spatialized sound system, the studio of Les 7 Doigts will be transformed into a truly immersive venue, evoking Riopelle's vast studios, the magnificent landscapes he frequented, and presenting monumental artworks. The audience will also have the chance to admire original artworks by the artist in the lobby.
The show is built around iconic artworks from different artistic periods of Riopelle's life, allowing the discovery of lesser-known pieces as well. Starting from the artists's introspective point of view on the eve of the creation of his monumental "Hommage à Rosa Luxemburg", the flights of the owl and the wild goose lead us on a truly remarkable odyssey through Riopelle's rich creative universe.
Duration: 70 minutes
The show is presented in French
Calendar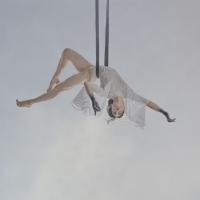 Montreal, October 5, 2023 – The immersive show RIOPELLE Grandeur Nature will be presented from February 13 to March 10, 2024, in the studios des 7 doigts de la main, a welcoming and intimate venue where spectators will get to see the acrobats and the master's work from up close.
Production: Les 7 doigts de la main
Coproduction: Fondation Jean Paul Riopelle
With the support of: Conseil des arts et des lettres du Québec and Tourisme Montréal
Conception
Creative Direction: Samuel Tétreault
Artistic Direction and Staging: Samuel Tétreault
Dramaturgy: Marie-Christine Lê-Huu​
Set Design: Olivier Landreville
Musical Composition: Colin Gagné
Costumes Design: Camille Thibault-Bédard
Sound Design: Jérôme Guilleaume
Multimedia Video Design: Équipe mirari
Video Design: Thomas Payette
Video Design and Multimedia Production: Mathieu Doyon
Video Project Management: Béatrice Germain
Animation Design: Louis Roy
360-Degree Photography Direction: Dominic St-Amant
Multimedia System Integration: Supply + Demand
Guest Consultant: Yseult Riopelle
Production
Production Direction: Emanuelle Kirouac
Technical Direction: Louis Héon
Production Assistance: Zoé Kolic
Production and Legal Assistant: Béatrice Gingras
Productions Management: Sabrina Gilbert
Project Manager for Works and Archives: Isabelle Domens
On Stage
Claire Hopson, Saali Kuata,​​ Arthur Morel, Guillaume Paquin​, ​Camille Tremblay
Special Thanks: Huguette Vachon, Michel Tétreault, Guillaume Saladin, Manon Gauthier, Marie Lebeau, Charles-Alexis Desgagnés