What would Montreal be without its notorious main street?
Les 7 Doigts go back in time and reignite the golden years of Montreal's art scene with an experiential creation at the heart of the St. Laurent boulevard. Thirty artists, circus, theatre, comedy, video screening, music-hall: an unprecedented way of celebrating Montreal!
From striptease to demonstrations, either outside or immersed under the digital vault of the SAT, the emergence of Montreal's cultural identity is told through cabaret, sexy, mafia and prohibitive stories.
Passing through various scenes, you will visit brothels, run away from the vice squad, emburlesquate yourself … and party!
Put on your 1940s attire!
Proper shoes are recommended to enjoy the several stopovers.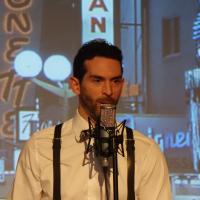 Thirty acrobats, musicians and actors will enliven this unique pathway where each spectator is invited to experience something incredible.
Artistic Direction Les 7 doigts de la main
Direction, Choreography & Staging Isabelle Chassé, Patrick Léonard, Samuel Tétreault
Casting, Dramaturgy & Actors Coaching Jean-Pierre Cloutier
Music Direction Colin Gagné
Ligthing Design Jean Laurin
Set Design Ana Cappelluto
Props Dominique Coughlin
Costumes Camille Thibault-Bédard
Accessoires Dominique Coughlin
Montréal's 375th Anniversary Official Program
In collaboration with Montréal Complètement Cirque, TOHU & SAT
Les 7 doigts de la main is supported by Conseil des arts et des lettres du Québec, Conseil des arts de Montréal & Conseils des arts du Canada.
Coproducers




With the support of