What would Montreal be without its notorious main street?
Les 7 Doigts go back in time and reignite the golden years of Montreal's art scene with an experiential creation at the heart of the St. Laurent boulevard. Thirty artists, circus, theatre, comedy, video screening, music-hall: an unprecedented way of celebrating Montreal!
From striptease to demonstrations, either outside or immersed under the digital vault of the SAT, the emergence of Montreal's cultural identity is told through cabaret, sexy, mafia and prohibitive stories.
Passing through various scenes, you will visit brothels, run away from the vice squad, emburlesquate yourself … and party!
Put on your 1940s attire!
Proper shoes are recommended to enjoy the several stopovers.
July 10 - August 16, Montréal
Tickets
IMPORTANT
- Duration : 3h / Age 18+
- Proper shoes are recommended as the experience will take place indoors and outdoors, rain or shine
- Put on your 1940s attire for the occasion! (Inspiration here)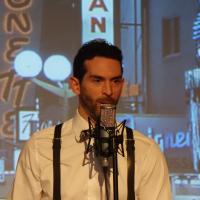 Thirty acrobats, musicians and actors will enliven this unique pathway where each spectator is invited to experience something incredible.
Production Les 7 doigts de la main
Artistic Direction & Script Samuel Tétreault
Staging Isabelle Chassé, Patrick Léonard & Samuel Tétreault
Texts Jean-Pierre Cloutier & Samuel Tétreault
Dramaturgy Consultant Jean-Pierre Cloutier
Casting & Actor's Direction Jean-Pierre Cloutier
Circus Performers Maude Arseneault, Eric Bates, Eve Bigel, Mikael Bruyère-L'Abbé, Marie-Ève Dicaire, Melvin Diggs, Geneviève Drolet, Song Enmeng, Pan Shengnan, Catherine Girard, Krin Haglund, Anna Kichtchenko, Patrick Léonard, Nadine Louis, Nicolas Montes de Oca, Tristan Nielsen, Pablo Pramparo, Alexandra Royer, William Underwood
Actors Martin Boily, Betty Bonifassi, Gabriel Cloutier-Tremblay, Lady Josephine, Marianne Dansereau, Vincent Roy
Musicians Jean-Sébastien Leblanc, Jonathan Gagné, Mathieu Roberge, Jeffrey Moseley

Music Director Colin Gagné
Musical Arrangements Colin Gagné & Jean-Sébastien Leblanc
Lighting Design Jean Laurin
Set Design Ana Cappelluto
Props Dominique Coughlin
Costumes Camille Thibault-Bédard assisted by Catherine Veri et Danaëlle Lareau
Hair & Make-Up Virginie Bachand
Video Directors Sean Caruso, Dominique St-Amand, Carl Lavoie
Acrobatic Coaching Francisco Cruz

Executive Production Manager Alice Renucci
Production Manager Luc Paradis
Project Manager Eve Marchand
Stage Managers & Directors' Assistants Marie-Christine Martel & Sabrina Gilbert
Stage Manager SATOSPHÈRE Jasmine Kamruzzaman
Stage Manager Place de la Paix Maxime Bouchard
Technical Director David Samson
Technical Director's Assistant & Set Construction Catherine Fournier-Poirier
Rigger Stéphane Beauchet

Montréal's 375th Anniversary Official Program
In collaboration with Montréal Complètement Cirque, TOHU & SAT

Acknowledgements Centre d'Histoire de Montréal, Mathieu Lapointe, Martin Landry, École nationale de cirque de Montréal, Chaire de recherche industrielle dans les collèges du CRSH en arts du cirque, Jean Thibault, Ugo Dario, Chloé Rondeau, Éric Gingras, Daniel Belliveau.
Although inspired by historical facts and figures, the show is a fiction.
Les 7 doigts de la main is supported by Conseil des arts et des lettres du Québec, Conseil des arts de Montréal & Conseils des arts du Canada.
Coproducers




With the support of