Thanks to its artisans versatile, and its creative genius, the company has managed to make us live an experience of more entertaining and informative.
Le Journal de Montréal, Vanessa guimond
The 3-hour circus production was A-M-A-Z-I-N-G!
Les 7 Doigts de la main are incredible and this show is breathtaking
Falvour & Flare
A thrilling journey across time.
Le Journal de Montréal
The 7 Fingers show signs of genius and audacity as they build bridges between past and present, exposing the legacy of a city long torn between pleasure and morality.
Le Devoir
A veritable tour de force.
Le Journal de Montréal
The incontestable gem of the festival. Original, inventive and festive.
Voir
Celebrates the spirit of Montreal like never before.
Voir
An interactive, immersive performance​

Vice & Vertu, an original production created for Montreal's 375th Anniversary and the Festival Montréal Complètement Cirque, was presented in the summer of 2017 at the Société des Arts Technologiques.
For one month, The 7 Fingers invited audiences into rise and fall of Montreal's cabarets and music halls, reliving the golden years of the city's red light district and burgeoning cultural scene in an immersive performance at the Société des Arts Technologiques.
Montreal was celebrated through circus, theatre, comedy, video projections, burlesque acts and music, forming a kaleidoscopic experience. The promenade of encounters featured notorious and pivotal historical figures — symbols of a vivid era in the history of the city.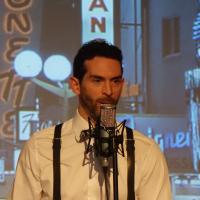 Thirty acrobats, musicians and actors will enliven this unique pathway where each spectator is invited to experience something incredible.
Production Les 7 doigts de la main 2003 Inc.
Artistic Direction Samuel Tétreault
Staging & Script Isabelle Chassé, Patrick Léonard & Samuel Tétreault
Texts Jean-Pierre Cloutier & Samuel Tétreault
Dramaturgy Consultant Jean-Pierre Cloutier
Casting & Actor's Direction Jean-Pierre Cloutier
Circus Performers Maude Arseneault, Eric Bates, Eve Bigel, Mikael Bruyère-L'Abbé, Marie-Ève Dicaire, Melvin Diggs, Geneviève Drolet, Song Enmeng, Pan Shengnan, Catherine Girard, Krin Haglund, Anna Kichtchenko, Patrick Léonard, Nadine Louis, Nicolas Montes de Oca, Tristan Nielsen, Pablo Pramparo, Alexandra Royer, William Underwood
Actors Martin Boily, Betty Bonifassi, Gabriel Cloutier-Tremblay, Lady Josephine, Marianne Dansereau, Vincent Roy
Musicians Jean-Sébastien Leblanc, Jonathan Gagné, Mathieu Roberge, Jeffrey Moseley

Music Director Colin Gagné in collaboration with Jean-Sébastien Leblanc
Band Leader Jean-Sébastien Leblanc
Original Musics & Lyrics Colin Gagné, Catherine Girard, Maxime Fortin
Live Musicians (and spontaneous arrangers) Jean-Sébastien Leblanc (Clarinet / Bass Clarinet / Vocals), Jonathan Gagné (Drum / Percussion), Mathieu Roberge (Upright Bass / Électric Bass), Jeffrey Moseley (Guitars), Betty Bonifassi (Vocals), Catherine Girard (Vocals and Guitar)
Sound Design & Remixes Colin Gagné
Vocals (Satosphère) Alexandre Désilets, Mykalle Bielinski.
With excerpts and interpretations of pieces from Duke Ellington, Juan Tizol, Gene de Paul, Phil Boutelje, Dick Winfree, Jacques Normand, Jean Rafa, Émile Prud'homme, Jean-Sébastien Leblanc, Bernie Miller, Dominic Desjardins, George Gershwin, Oscar Peterson, Bubber Miley, Grace Jones, Astor Piazola, Herbert Stothart, Harry Ruby, Bert Kalmar, Sydney Bechet, Yma Sumac, Frederick Swann, Claudio Monteverdi, Cab Calloway, Turner Layton, Henry Creamer, Jacques Offenbach, Henry Purcell, Frederic Chopin, Jean Lenoir, Betty Bonifassi , Alex Gifford, and sound archives compiled by the Fondation Lionel-Groulx.
Lighting Design Jean Laurin
Set Design Ana Cappelluto
Props Dominique Coughlin
Costumes Camille Thibault-Bédard assisted by Catherine Veri et Danaëlle Lareau
Hair & Make-Up Virginie Bachand
Video Directors Sean Caruso, Dominique St-Amand, Carl Lavoie, Nicolas Noël-Jodoin and Kassandra Dupont
Acrobatic Coaching Francisco Cruz

Executive Production Manager Alice Renucci
Production Manager Luc Paradis
Project Manager Eve Marchand
Stage Managers & Directors' Assistants Marie-Christine Martel & Sabrina Gilbert
Stage Manager SATOSPHÈRE Jasmine Kamruzzaman
Stage Manager Place de la Paix Maxime Bouchard
Technical Director David Samson
Technical Director's Assistant & Set Construction Catherine Fournier-Poirier
Rigger Stéphane Beauchet

Montréal's 375th Anniversary Official Program
In collaboration with Montréal Complètement Cirque, TOHU & SAT

Acknowledgements Centre d'Histoire de Montréal, Mathieu Lapointe, Martin Landry, École nationale de cirque de Montréal, Chaire de recherche industrielle dans les collèges du CRSH en arts du cirque, Jean Thibault, Ugo Dario, Chloé Rondeau, Éric Gingras, Daniel Belliveau.
Although inspired by historical facts and figures, the show is a fiction.
Coproducers




With the support of