At nightfall, beckoned by mysterious guardians of the lagoon, the ancient spirit ANIMO awakens. So begins a colorful acrobatic ritual celebrating the link between humans and nature: a timeless aquatic fable about the role we can all play in caring for our planet and its wonders.

For our first major collaboration with Moment Factory, we were entrusted with the staging and choreography of Soul of the Ocean, a one-of-a-kind, large-scale production. The permanent multimedia show opened in January 2020 in Hong Kong's Ocean Park, one of the world's most visited theme parks and resorts.
Two creative workshops were held in Montreal to develop the show's acrobatic and choreographic vocabulary, one in our studios and the other at the Olympic Stadium, where a model of the immense lagoon was recreated to scale.
After casting the production, Isabelle Chassé and Shana Carroll flew to Hong Kong to direct the 27 artists who are now performing the show on a daily basis.
Far from being limiting, working with the aquatic element proved to be rich in possibilities. "Every movement is affected by water, it can give it resistance or, conversely, a lot of amplitude. It's wonderful to choreograph with the flight patterns of the droplets in mind. The movements become fragmented and multiplied at the same time, creating an echo that is visible to the naked eye," said Isabelle Chassé.
While The 7 Fingers have been continuously present in Moscow for three years with The Circus Princess and then with Prime Time — opening in March — Soul of the Ocean marks our first participation on a permanent show in Asia.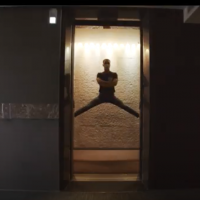 Our cast of artists from 8 different countries has been incredibly patient and creative in dealing with this utterly strange situation. They have found innovative ways to keep training even when confined in their hotel rooms.
Design and production Moment Factory
Staging and choreography Isabelle Chassé and Shana Carroll (The 7 Fingers)
Photos Moment Factory